ASUS ZenFone 3 ZE520KL, The Best Experience for Photography
Saking asyiknya menggunakan salah satu varian ZenFone terbaru yaitu ZenFone 3 ZE520KL membuat Blogger Borneo hampir kelupaan membuat tulisan review ini. Setelah sebelumnya sempat ragu untuk berpaling hati dari ASUS ZenFone Selfie, akhirnya Blogger Borneo "menyerah".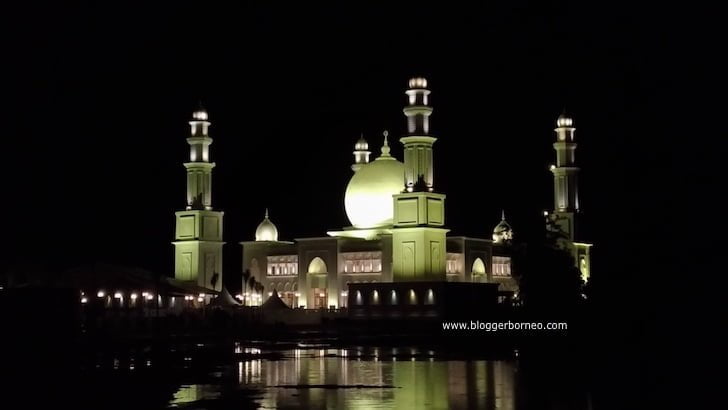 Tagline Built for Photography yang selalu melekat selama Blogger Borneo berada di Bali dalam rangka ASUS ZenVolution 2016 beberapa waktu lalu membuat hati ini runtuh dan tidak berdaya untuk tidak merasakan bagaimana pengalaman menggunakan salah satu varian terbaru ASUS ZenFone ini.
Memang jika diperhatikan, kapasitas kamera depan dan belakang yang dimiliki ASUS ZenFone 3 ZE520KL masih dibawah ASUS ZenFone Selfie. Namun ketika Blogger Borneo mencoba jepret sana jepret sini dan tidak lupa jepret muka, kualitas foto yang dihasilkan kurang lebih sama. Selain itu, ASUS juga menambahkan beberapa modul kamera sehingga Blogger Borneo bisa lebih bebas dan leluasa dalam berekspresi.
Foto diatas Blogger Borneo abadikan ketika sedang berada di Kabupaten Kayong Utara. Coba diperhatikan hasil jepretan ZenFone 3 ZE520KL ini, cukup indah kelihatannya. Memang tidak salah jika ASUS memberi tagline Built for Photography pada smartphone terbaru ASUS ini. Mungkin diantara kawan-kawan ada yang bertanya kenapa kualitas kameranya bisa sebagus hasil foto masjid diatas? Nah, sekarang Blogger Borneo akan menjelaskannya terlebih dahulu.
Pixel Master 3.0
Teknologi PixelMaster 3.0 yang terpasang membuat ASUS ZenFone 3 ZE520KL memiliki 20 mode kamera yang berbeda, mulai dari mode Manual, Depth of Field, Slow Motion, dan lain sebagainya. Selain itu, kamera ASUS ZenFone 3 ZE520KL mampu menangkap cahaya dengan rana terbuka selama 32 detik. Biasanya teknologi ini hanya terdapat di kamera DSLR profesional. Oleh ASUS, teknologi baru ini dinamakan 32 Seconds Long Exposure Photo. Melalui fitur ini, Blogger Borneo bisa memotret penampakan bintang-bintang di langit dan juga bisa digunakan untuk menangkap gemerlap kilatan cahaya kota di malam hari.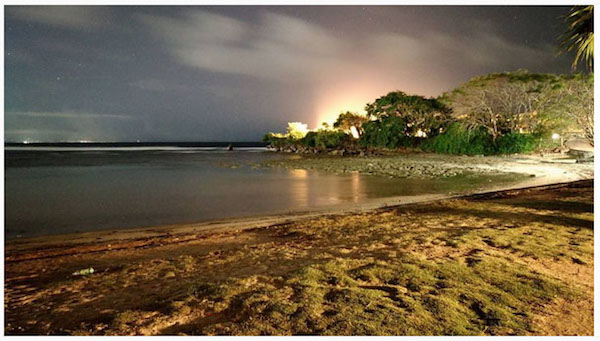 Penampakan foto diatas merupakan salah satu hasil kreasi Bang Freddy Hernawan ketika menggunakan fitur 32 Seconds Long Exposure Photo. Sebenarnya Blogger Borneo ada juga mengambil foto di waktu dan fitur yang sama, cuma hasil jepretannya tidak sebagus ini. Ya maklum saja, dimana-mana yang bisa memanfaatkan fitur kamera secara optimal adalah seorang fotografer. Kalau Blogger bisanya memanfaatkan tulisan secara optimal. Hahahahaha…
BACA JUGA: ASUS ZENFONE 3 MAX
Nah, ada satu lagi fitur baru yang dimiliki ASUS ZenFone 3 ZE520KL yaitu OIS (Optical Image Stabilizer) dan EIS (Electronic Image Stabilizer). Sesuai namanya, OIS merupakan sebuah teknologi yang mampu menganalisa dan mencegah pergerakan tangan ketika mengambil foto sehingga tidak blur. Sedangkan EIS berfungsi untuk menjaga video tetap stabil dari guncangan akibat gerakan sewaktu mengambil obyek.
Perhatikan hasil rekaman video dibawah ketika Blogger Borneo mengikuti kegiatan ASUS Incredible Race 2016 di Nusa Dua Bali bulan September lalu. Lihat bagaimana hasil videonya, sungguh mempesona bukan? ?
Hampir lupa, kamera pada ASUS ZenFone 3 ZE520KL juga dipersenjatai dengan fitur TriTech Auto-Focus yang menghasilkan fokus jelas dalam waktu hanya 0,03 detik saja pada berbagai kondisi, kecepatan lasernya bisa mencapai lebih dari 10 kali lipat dari kedipan mata.
Visual Master 3.0
Selain PixelMaster 3.0, ASUS telah menggunakan teknologi VisualMaster 3.0 yang merupakan gabungan dari beberapa teknologi eksklusif visual. Didalamnya juga terdapat ASUS Tru2Life+ dan ASUS TruVivid yang mengkombinasikan secara pas antara setingan hardware dan software demi memberikan tampilan visual yang realistis.
BACA JUGA: ASUS ZENFONE GO ZB690KG
ASUS Tru2Life+ menggunakan teknologi pemrosesan gambar terbaru pada TV 4K UHD. Setiap piksel dioptimasi untuk menghantarkan kontras yang jelas dan tajam untuk gambar indah seperti aslinya. Tru2Life+ juga memiliki algoritma motion-estimation dan motion-compensation (MEMC) untuk menghasilkan kualitas video lebih halus dan bebas blur.
DESAIN ELEGAN YANG SEMPURNA

Setelah fokus di fitur-fitur yang terdapat pada ASUS ZenFone 3 ZE520KL, sekarang Blogger Borneo beralih ke bentuk desain dan spesifikasi teknis lainnya. Demi memberikan kenyamanan sekaligus meningkatkan kepercayaan diri bagi para penggunanya, ASUS mengkombinasikan antara balutan Corning Gorilla Glass 2.5D berkontur dibagian depan dan belakang yang memiliki frame metal sangat tipis berukuran 6,1 milimeter dengan desain multi-dimensi halus disertai dengan diamond-cut chamfer.

Blogger Borneo yang sebelumnya menggunakan ASUS ZenFone Selfie langsung merasakan perbedaannya ketika untuk pertama kalinya diberi kesempatan memegang ASUS ZenFone 3 ZE520KL secara langsung. Ukuran layarnya pun dirasa cukup pas yaitu 5.2″ dengan resolusi Full HD 1920×1080, ditambah dengan tingkat keterangan hingga 600nits membuat Blogger Borneo masih bisa melihat tampilan layarnya meski sedang berada dibawah sinar matahari langsung.
SPESIFIKASI TEKNIS ASUS ZENFONE 3 ZE520KL
Meski bentuknya tipis, jangan ragukan akan performa kinerja ASUS ZenFone 3 ZE520KL. Prosesor SnapDragon 625 Octa-Core 2.0Ghz yang ditanamkan, ditambah lagi dukungan memori 3GB dan performa grafis berkelas desktop Adreno 506 membuat produk smartphone terbaru ASUS ini mampu bekerja secara optimal. Teknologi revolusioner 14nm Fin Field Effect Transistors yang terdapat pada prosesor mampu menekan pemakaian daya hingga 35 persen lebih rendah. Satu lagi, pada semua versi ZenFone 3 ASUS telah menggunakan port USB Type-C.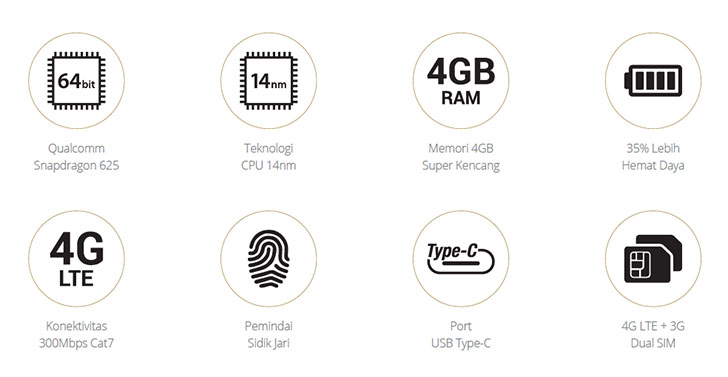 Selain penggunaan Port USB Type-C, ASUS ZenFone 3 ZE520KL juga telah menggunakan teknologi pemindai sidik jari atau dikenal sebagai Finger Print. Pemindai sidik jari ini diletakkan tepat pada posisi ketika tangan Blogger Borneo memegang smartphone yaitu dibawah lensa kamera. Untuk respon sidik jarinya hanya membutuhkan waktu 0,2 detik saja. Jika ingin langsung mengaktifkan kamera selfie, cukup geser jari pada permukaan sensor dan sentuh dengan ujung jari untuk mengambil foto. Kelima jari dapat digunakan sidiknya untuk mengaktifkan aplikasi-aplikasi tertentu yang tersedia.
Interface Baru ZenUI 3.0
Terakhir Blogger Borneo akan membahas mengenai tampilan interface terbaru ASUS ZenFone 3 ZE520KL yaitu ZenUI 3.0. Faktor kemudahan dalam penggunaan serta penambahan beberapa fitur baru menjadi prioritas dalam pengembangan ASUS ZenUI ini.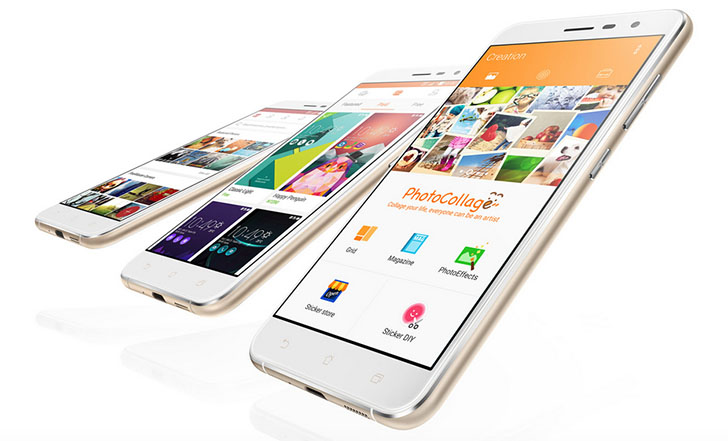 Beberapa fitur unggulan yang terdapat dalam ASUS User Interface 3.0, antara lain:
Lock Screen : Real-Time Animasi dan Widget Jam
Home Screen : Lihat Dunia Anda dalam Genggaman
Themes : Sesuaikan Smartphone Anda Sesuai Keinginan
Game Genie : Game Smart, Win Fast, Stream Smooth
Photos+ : Buat Sesuatu yang Menakjubkan
ZenCircle : Menangkap Gambar, Berbagi, dan Menemukannya
ZenMotion : Tap dan Swipe Sesuai Keinginan Anda
Mobile Manager : Optimalkan Pengalaman Mobile Anda
HARGA PONTIANAK : Rp. 3.900.000,-