Diluar Prediksi, Hampir 400 Orang Hadir di Seminar Internet Baik Pontianak 2017
Sejak awal, panitia penyelenggara Seminar Internet Baik di Pontianak tahun 2017 sebenarnya hanya membatasi jumlah peserta 250 orang saja. Akan tetapi, di hari pelaksanaannya, ternyata masih ada calon peserta yang datang untuk mendaftar. Alhamdulillah, animo masyarakat cukup tinggi kali ini. Dan ketika ditotal, kurang lebih 380 orang hadir di kegiatan ini.
Sebuah informasi mengenai akan dilaksanakannya kegiatan seminar Internet Baik di Pontianak, Blogger Borneo terima dari salah seorang relasi di komunitas di Jakarta. Melihat acara ini cukup menarik dan memiliki muatan edukasi positif, Blogger Borneo langsung melakukan pendaftaran secara daring melalui tautan yang diberikan. Blogger Borneo langsung menyebarkan informasi tersebut ke beberapa teman-teman terdekat, Alhamdulillah diantara mereka masih ada yang kebagian jatah, namun ada juga yang tidak mendapat tempat karena slot peserta yang telah ditetapkan panitia yaitu 250 orang peserta telah terisi penuh.
Sesuai agenda dimana panitia pelaksana menginformasikan bahwa pendaftaran sudah dibuka mulai jam 7 pagi, maka setelah mengantar sang buah hati tercinta, Blogger Borneo langsung bergegas menuju lokasi penyelenggaraan. Begitu sampai di lokasi, Blogger Borneo langsung naik ke lantai 3. Tampak para peserta sudah mengantri panjang di depan meja pendaftaran.
Meski pada awalnya kapasitas jumlah peserta dibatasi 250 orang saja, namun pada kenyataannya di hari pelaksanaan yang hadir mencapai angka kurang lebih 380 orang. Begitu tingginya animo para pendaftar yang sebagian besar berasal dari kalangan pendidik membuat pihak panitia agak kewalahan. Hal ini menyebabkan ada peserta yang terpaksa tidak mendapatkan goodie bag dikarenakan jumlahnya hanya sebanyak jumlah peserta awalnya. Atas ketidaknyamanan ini, panitia pelaksana Seminar Internet Baik 2017 di Pontianak pun meminta maaf.
APA ITU INTERNET BAIK?
Oke, sebelum melanjutkan tulisan ini, pasti ada diantara kawan-kawan yang bertanya dalam hati mengenai istilah yang digunakan yaitu INTERNET BAIK. Dan karena di tahun pertama kegiatan ini dilaksanakan, maksud dan tujuan apa yang ingin dicapai secara garis besarnya.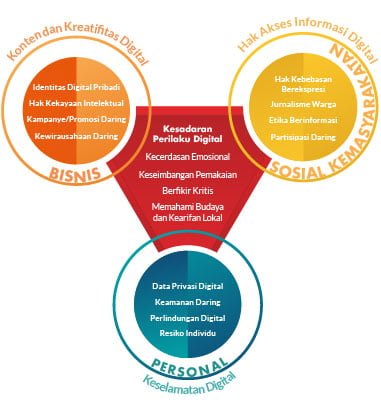 Menurut informasi yang Blogger Borneo kutip dari laman website resminya yaitu www.internetbaik.web.id, yang dimaksud dengan INTERNET BAIK adalah salah satu program CSR Telkomsel
bekerjasama dengan tiga mitra pelaksana lainnya, yaitu: Yayasan Kita & Buah Hati, Kakatu, dan ICT Watch.
Program INTERNET BAIK mulai dilaksanakan pada tahun 2016, dibuat dengan satu tujuan yaitu bagaimana masyarakat di Indonesia bisa menggunakan internet secara BAIK (Bertanggungjawab, Aman, Inspiratif, dan Kreatif).
Kedepannya, program ini diharapkan bisa menjadi role model dan acuan pendidikan literasi digital di Indonesia melalui konsep Digital Citizenship Education (DCE) sehingga bisa diterapkan oleh para guru di lembaga-lembaga pendidikan, didukung juga oleh para orangtua, serta komunitas pengguna ekosistem digital yang  ada.
Ada 4 aspek yang ingin dicapai dengan adanya program INTERNET BAIK, antara lain:
Kesadaran perilaku Digital (Digital Awareness and Behavior)
Hak Akses Informasi Digital (Digital Right and Netizenship)
Keselamatan Digital (Digital Safety)
Konten dan Kreatifitas Digital (Digital Content and Creativity)
Dilihat dari jumlah animo para peserta yang hadir diluar prediksi, bisa ditarik kesimpulan bahwa tema yang diangkat dalam program ini cukup menarik minat para orang tua maupun dewan guru. Perkembangan teknologi informasi khususnya di bidang internet membuat mereka mau tidak mau meng-upgrade diri agar bisa mengimbangi pergerakan anak-anak mereka (termasuk Blogger Borneo sendiri) dalam menggunakan gadget. Hal-hal seperti ini tidak akan bisa dihindarkan, namun masih tetap bisa diawasi dan dikendalikan sesuai batas wajarnya.
SEMINAR INTERNET BAIK PONTIANAK
Secara garis besar, kegiatan ini diselenggarakan selama 2 (dua) hari dari tanggal 14-15 November 2017. Nah, pada kegiatan hari pertama, lebih bersifat seminar dengan jumlah peserta mencapai sekitar 380 orang. Sesi seminar ini dilaksanakan dari jam 8 pagi sampai menjelang makan siang. Ada 3 (tiga) pemateri utama yang mengisi, masing-masing mewakili Yayasan Kita & Buah Hati, Kakatu, dan ICT Watch.
Secara keseluruhan, materi yang dibawakan pada sesi hari pertama adalah mengenai 5 Prinsip Cerdas Berinternet, yaitu:
Keep Playing or Stop
Think Before Posting
Saring Before Sharing
Wise While Online
Click or Close
WORKSHOP INTERNET BAIK PONTIANAK
Di hari kedua, Insya Allah akan dilaksanakan 2 kegiatan yang berjalan paralel yaitu Workshop Digital Citizen Ecosystem dan Kelas Edukasi.
1. Workshop Digital Citizen Ecosystem (DCE)
Workshop Digital Citizen Ecosystem (DCE) adalah kelas lanjutan dari seminar yang diadakan hari ke 1. Adapun pesertanya merupakan peserta yang dipilih dan disaring pada saat sesi seminar. Peserta yang mengikuti workshop DCE akan dipilih menjadi Duta Internet Baik 2017.
Workshop DCE terbagi menjadi 3 kelas, antara lain:
A. Workshop "Menyiapkan Edukasi dan Penanganan Kasus Siswa"
Pada kelas workshop ini, peserta akan diberikan materi dan simulasi terkait cara melakukan edukasi yang asik sehingga belajar menjadi lebih seru. Pembahasan yang diangkat terkait bagaimana anak dan remaja dari sisi psikologis, bagaimana membuat kemasan menarik bagi anak dan remaja sampai pada teknik komunikasi dalam menyampaikannya.
B. Workshop "Cara Promosi Asik di Internet"
Pada kelas workshop ini peserta akan diberikan materi dan simulasi terkait cara menyebarkan konten positif melalui blog. Penjelasan tidak hanya membuat blog saja tetapi juga dilengkapi cara agar blog berisi tulisan yang asik untuk dibaca dan mendorong orang lain membagikan tulisan berkonten positif tersebut
C. Workshop "Pembuatan Video Pendek"
Pada kelas workshop ini peserta akan diberikan materi dan kesempatan untuk membuat video pendek secara berkelompok. Video yang akan dibuat berbasis penggunaan kamera telepon genggam dalam mengambil gambarnya. Selain itu akan diberikan pula materi cara mengedit video dan menyatukannya dengan video lainnya menggunakan aplikasi yang ada di dalam telepon genggam. Pembuatan video akan lebih banyak berkaitan dengan konten positif dengan harapan akan banyak konten positif yang tersebar sehingga dapat membentuk ekosistem digital yang lebih baik
2. Kelas Edukasi
Kelas edukasi ditujukan kepada siswa/i SD dan SMP. Pada kelas edukasi siswa/i akan diberikan materi terkait perkembangan teknologi beserta dampak yang bermunculan, baik positif maupun negatif. Selain itu akan dijelaskan pula rambu-rambu penggunaan teknologi baik yang terkait dengan internet, media sosial maupun games. Penyajian materi menggunakan metode pemaparan, diskusi dan simulasi.
Insya Allah untuk sesi hari kedua ini baru akan dilaksanakan esok hari, jadi nantikan tulisan Blogger Borneo selanjutnya ya. (DW)
Referensi:
http://internetbaik.web.id/
http://http.ict.pontianak.go.id/news.php?readmore=927