Enjoy a San Diego City Break this Winter
Some people hunger for the countryside, others for the city streets. Yet, even those who dwell most of the time surrounded by amazing architecture and a vibrant urban buzz sometimes wish for experience of that lifestyle in a city apart from their own.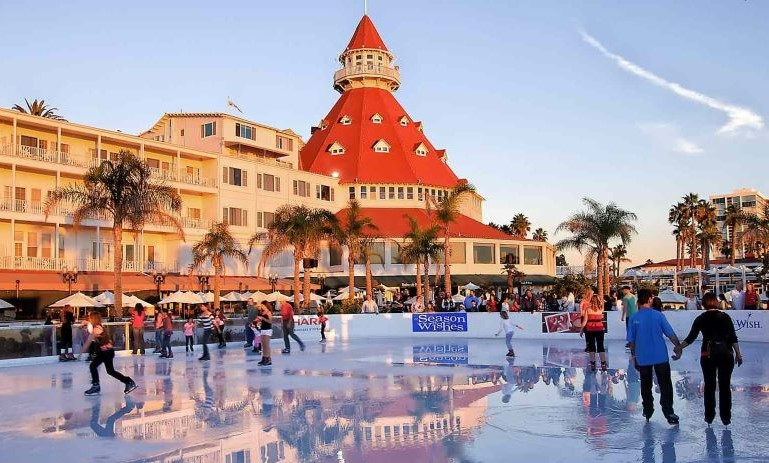 Image: Google.Com
San Diego City
Summer isn't the season to explore such alternatives, however, crushed up against strangers of equal touristic mindset, all sweaty and irritable.
Rather, winter is when walking along pavements can be languorously enjoyed as you appreciate the architecture and the city's vibe, and those many intriguing cafés, with windows decked out in twinkling lights, become refuges from a pleasantly chill breeze that follows round corners and pushes along the fallen leaves.
To this end, similar to Christmas market travels on the Continent in Europe, it might be said that visiting cities on the East Coast is to be promoted, what with their typically traditional winter climes.
Nonetheless, the West Coast is considerably cooler at this time of year and as such is perfect for tripping along promenades without the scorching sun of peak summer burning down on already-reddened necks. Obviously this applies more to California than it does to Seattle (state of year-long rain), but where to choose from therein?
Exchanging Pathways for Waterways
Of course, one of the main attractions of San Diego City is the water. Where better to hire a yacht (professional crew with skipper included or not)? Sail the waters off the city's coast, reveling in the freedom, just as you would the anonymity of urban streets. The bonus here is the cuter wildlife that pops up intermittently (mammalian, not human).
Terra Firma Alternatives
If, however, you are firmly in the "sea sickness sufferer" category and not overjoyed in the least with the thought of sea lions and dolphins when it comes to a winter city break (which, admittedly, is a scenario slightly outside the norm), then San Diego also offers spas aplenty, rewarding all your hard work through the year with a deep tissue massage or decadent facial, and too many eateries to mention.
Cities, after all, are becoming more and more about the gastronomy they have to offer, San Diego no less so. Succulent seafood and beautiful BBQ are obvious options, but the influence from nearby Latin countries is what truly sets this SoCal cuisine deliciously apart.
Visit Balboa Park
Balboa Park is home to many museums, gardens, and cultural institutions, including the San Diego Museum of Art, the San Diego Natural History Museum, and the Botanical Building. The park also has plenty of walking paths and green spaces to explore.
Enjoy the Food Scene
San Diego City has a diverse and delicious food scene, with plenty of options for all tastes and budgets. From seafood to Mexican cuisine to craft juice and drinks, there's something for everyone to enjoy.
Take a Whale Watching Tour
Winter is the best time to see gray whales off the coast of San Diego City. Many tour companies offer whale watching excursions, where you can see these majestic creatures up close.
Explore Old Town
Old Town San Diego is the historic heart of the city, with plenty of adobe buildings, shops, and restaurants to explore. You can also learn about the history of the region at the Old Town San Diego State Historic Park. The USS Midway was an aircraft carrier that served in the U.S. Navy for over 40 years. Today, it's a museum that offers visitors the chance to explore the ship, learn about its history, and see aircraft up close.
Southern Seduction
Bordering Tijuana, San Diego City in December is an entity in and of itself. Where else do you hear of Santa by the Sea? Of course, not every city breaker will want to venture to SoCal just for the pleasure of attending La Jolla Christmas Parade (though it's quite something, what with the festive lights and caroling).
If, rather, your intention is to experience the city without the holiday tint, come away from the festive fracas (carefully, mind; you don't want to have to end up seeking an Uber Accident Attorney in San Diego in mid-December) and seek the city's less commercial fixed sights which are only ever a short ride away. (DW)