5 Reasons to Make Saadiyat Island the Destination for Your Next Girl's Trip
Saadiyat Island is a natural island in Abu Dhabi, United Arab Emirates with a luxurious and vibrant atmosphere. Renowned for its five-star accommodations and gorgeous beaches, Saadiyat Island is a health and wellness destination in its own right.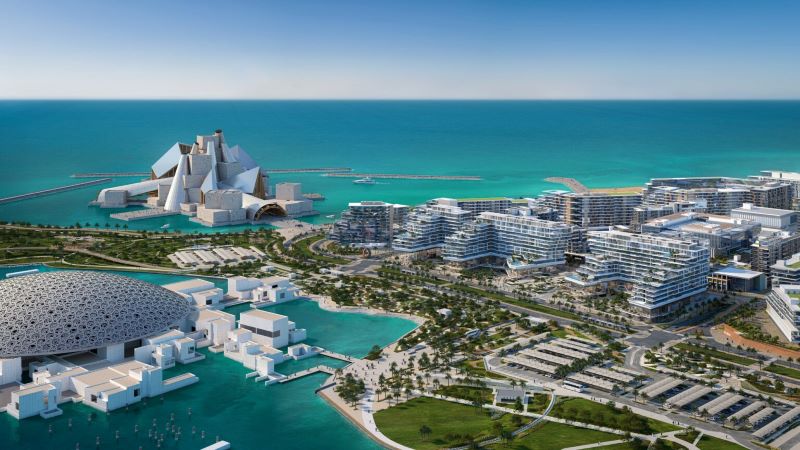 Image: skylandprop.com
Saadiyat Island
Here, you and your girlfriends can have the ultimate getaway. You can even choose to do so in complete privacy by opting for one of the secluded villas within an exclusive resort on the island.
Of course, there are a lot more things to do on Saadiyat Island than just relaxing and indulging in the breathtaking views and excellent amenities.
Curious? Continue reading to learn the five reasons you should make Saadiyat Island the destination for your next girls' trip.
Why Choose Saadiyat Island for Your Next Girls' Trip
Say goodbye to typical beach vacations and hello to a chic escape on Saadiyat Island in Abu Dhabi.
This stunning island that serves as a hub for luxury, culture, and adventure will amaze you, so it is an excellent venue for strengthening the bonds of friendship with your girlfriends.
Of course, there's more to enjoy on the island than that. Listed below are five more reasons Saadiyat Island should be at the top of your travel bucket list with your girlfriends:
1. Stunning Beaches
Saadiyat Island is home to one of the most beautiful beaches in Abu Dhabi. With crystal-clear waters and soft, white sand, you'll feel like you're living inside a postcard when you go on a trip here.
Saadiyat Beach is in a league of its own. The pristine white coral sand stretches for miles, and the warm Indian Ocean provides the perfect backdrop for sunbathing, swimming, and pure fun.
The island is split between the posh beach resorts of the Saadiyat Beach Club, and two public beach areas: Kai Beach and Soul Beach. It's the perfect place for a leisurely stroll, shell hunting, soaking up the sun, and taking a dip in the sea.
2. Luxury Resorts
With its focus on high-end luxury, Saadiyat Island is an excellent destination for a relaxing and indulgent girls' trip. From the Jumeirah at Saadiyat Island Resort to the St. Regis Saadiyat Island Resort, you'll be living the life of a VIP.
With the world-class amenities, stunning architecture, and attentive staff at the Jumeirah, you'll never want to leave. In fact, rolling up to the hotel is like boarding a high-end beachfront spaceship.
This futuristic hotel is all about cutting-edge style and eco-friendliness, with features like smart curtains that help conserve energy and programs dedicated to preserving marine life. Moreover, the lobby is a true showstopper, with a mesmerising floating sculpture of 400 hand-blown blue glass pieces, creating an aquarium-like atmosphere.
As for St. Regis, you'll be stepping into the lap of luxury and feel like royalty the moment you step into the palatial beachfront property. It possesses the charm of a Florida or Caribbean mansion with all the sophistication of a top-notch resort.
Set amidst pristine white-sand beaches on Saadiyat Island, every aspect of this property is designed with guests' comfort in mind, from the lush terraced grass to the perfectly lined palm trees leading to the entryway.
3. Manarat Al Saadiyat Cultural Centre
At the Manarat Al Saadiyat Cultural Centre, you and your girlfriends can get a glimpse of the rich culture and heritage of the UAE. Featuring exhibitions and programs showcasing the work of local artists, traditional crafts, and the country's history, this cultural centre is one reason why Saadiyat Island is a famous tourist destination.
Think of Manarat Al Saadiyat as your own personal playground for everything related to art. Offering a variety of programs that dive into film, music, animation, gaming, photography, and media, you'll surely find something that you will enjoy here.
And if you're feeling creative, you can join one of the art workshops offered here and try your hand at printmaking, self portraiture, figure drawing, or ceramics. It's a place where you can express yourself, be inspired, and bring out your inner artist.
4. Culture-Packed Museums
Besides the Manarat Al Saadiyat Cultural Centre, Saadiyat Island is considered a cultural hub because of the world-famous museums it houses. From the Louvre Abu Dhabi to the Zayed National Museum, you'll have plenty of opportunities to immerse yourself not only in the country's history but also in global art and culture.
At Louvre Abu Dhabi, you can step into the world of art and culture with ease. What's most interesting about this place is that the exhibitions are curated in an unusual manner. Instead of being separated by material or culture, the pieces are displayed in chronological order. This makes your visit feel like a journey through time.
Read Also: Best Hotel in West Kalimantan
The collection – composed of pieces from French and Emirati sources – showcases the universal themes and connections among global cultures and eras. And it's not just about the individual works; it's the way they're brought together that makes the experience truly compelling.
The Zayed National Museum showcases the story of the UAE's founding father and visionary leader. This architectural gem pays tribute to the late Sheikh Zayed bin Sultan Al Nahyan and highlights the country's cultural richness and social progress through interactive exhibits and displays.
Here, you and your friends can immerse yourselves in the fascinating narrative of this nation and appreciate the spirit of cultural exchange and learning.
5. Vibrant Promenade
The Saadiyat Island Promenade is a must-visit for anyone looking to experience the island's lively atmosphere. With its array of souvenir shops, cafes, and restaurants, you and your girls can spend the day browsing and trying new things.
Set against an awe-inspiring backdrop of the glistening sea and clear skies of Abu Dhabi, this is the perfect spot to enjoy a swim, sample some excellent cuisine, and bask in the sunshine while losing all sense of time.
Take the Ultimate Girls' Trip
Saadiyat Island is the ultimate destination for a girls' trip full of luxury, culture, and relaxation.
With stunning beaches, chic resorts, and plenty of things to do, you and your girl pals will surely have a trip to remember. So, gather your girlfriends and prepare for a sun-soaked adventure on Saadiyat Island, Abu Dhabi. (DW)