Happy Muslim, Javanese Restaurant in Kota Kinabalu Sabah
Having exhausted around Kota Kinabalu in the morning, it is time to find a place to rest while breakfast. My search stopped at a restaurant called "Happy Muslim". Incidentally, I chose the restaurant because in addition to a unique name, neighborhood atmosphere is also quite comfortable and hygienic.
Javanese Restaurant in Kota Kinabalu
Moreover, the distance is not too far from where we stayed is Bouteq Hotel Imperial, allow me to return to the restaurant in time for lunch or dinner. Got to see a list of food menu is on the wall, I finally ordered a serving of Soto Ayam and Nasi Putih (if better known here by the term Nasi Kosong).
Got to see a list of food menu is on the wall, I finally ordered a serving of Soto Ayam and Nasi Putih (if better known here by the term Rice Empty). Well, it turns out in Kota Kinabalu food menu is almost the same as in Pontianak. Only the name of the food was just a little different.
To drink, at first I got confused because I actually wanted to order a hot tea. Once I see on the menu, for there was only tea category Tea, Tea O, and Tea C. No time to ask what the purpose of each of these names, I had a message Tea O only.
Malaysia Menu
Hopefully my order in accordance with what I expect. And thank God, turned out to drink that I ordered as I wanted the tea warm. Apparently I just know that Tea C it is the drink of tea mixed with milk (the letter C was originally a term used to describe the brand of milk is used as a mixture of Carnation).
But now the name is merely a term which brand of milk that is used today in general is F & N (it is Malaysia's own local product).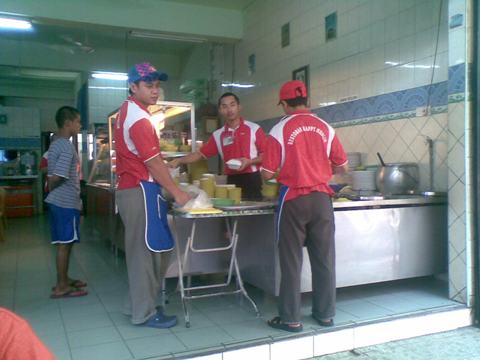 When I was eating, I accidentally overheard by two of his servants. A bit surprised because I know the language used is Java language. Well, it turns out there is also a Java people to migrate to Kota Kinabalu. It is true what people said that the Javanese people have a soul of a foreigner.
As soon as I finished eating, I immediately pay to the cashier. Fair food prices too, for a portion of the Soto Ayam price is RM. 3,5 (approximately Rp. 9800, -), plus the price of White Rice is RM. 1 (approximately Rp. 2800, -). To drink a glass of hot tea or Tea O, the price is RM. 1,5 (approximately Rp. 4200, -).
Cheap Price
If the calculated sum it all around RM. 6 (approximately Rp. 16 800, -). Quite expensive for breakfast count right? But it does not matter, what matters now I already feel full. On the other hand I took the opportunity to order food here as it is very difficult Meatball find these delicious foods at Kota Kinabalu.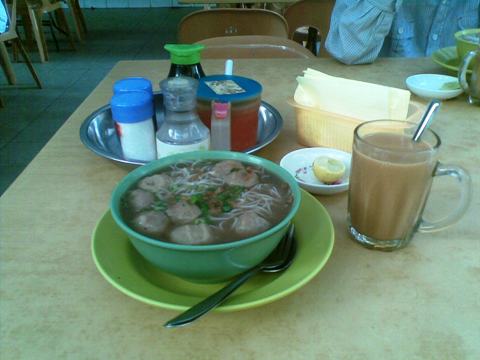 Finally I went back to the hotel for a brief rest. After refreshing myself with a hot bath, I lay down and read the newspaper "Sabah Times". Had a discussion with Muhammad Irhamna about presentation materials that will be performed at the time of the event Borneo Bloggers + New Media Dialogue next day.
Because on this night all the B2.0 participants invited by Sabahan Bloggers (Blogger Sabah Community) on the show Dinner and Night suave so I made sure to take a nap for a while. (DW)