XL Break The Box, Ikuti Live Streaming Game Pertama di Indonesia
Bebasin YouTubers Jagoanmu dengan mengikuti Live Streaming Game Pertama di Indonesia pada Tanggal 13 Mei 2017. XL Break The Box Pecahkan Rekor Nasional.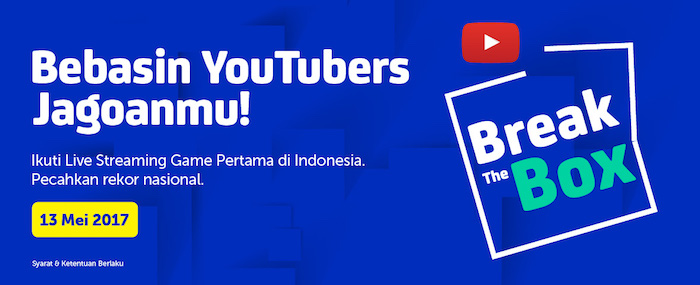 Bebasin YouTubers Jagoanmu and let's break the records!
Bantu mereka untuk keluar dari box dengan memberikan petunjuk secara LIVE!
Jadilah bagian dari pemecahan rekor Live Streaming game terbanyak di Indonesia di acara XL Break The Box tanggal 13 Mei 2017. Mau ikut keseruannya? Simak cara lengkapnya berikut:
Subscribe akun YouTuber jagoanmu & akun YouTube @myXL
Tonton aksi mereka secara online live streaming pada tanggal 13 Mei 2017 mulai pukul 16:00 di channel YouTube mereka masing-masing dan bantu jagoanmu memecahkan tantangannya atau kunjungi Main Atrium Gandaria City, Jakarta untuk menyaksikannya secara langsung.
Beri komentar sebanyak-banyaknya dengan memberikan informasi yang berguna untuk membebaskan jagoanmu dari box di channel YouTuber jagoanmu.
Dapatkan hadiah menarik sekaligus kesempatan untuk meet & greet dengan YouTuber, untuk kamu yang sudah subscribe dan berkontribusi aktif memberikan komen yang informative.
Kunjungi akun YouTube jagoanmu di sini:
Miawaug
Kevin Hendrawan
Rachel Goddard
Sobat Hape
Michelle Hendra
SYARAT DAN KETENTUAN
Peserta tidak menuliskan comment yang mengandung kekerasan, pornografi, SARA, politik dan isu yang memancing konflik.
Kriteria penilaian adalah tingkat keaktifan dan kualitas komentar.
Kompetisi ini hanya berlangsung pada saat periode live event XL Break The Box 13 May 2017.
Pemenang akan diumumkan pada 13 Mei 2017 secara langsung di event dan melalui laman www.xl.co.id atau social media @myXL (Twitter, Facebook, dan Instagram).
Syarat dan ketentuan dapat berubah sewaktu-waktu. Disarankan untuk mengunjungi laman ini secara berkala.
Info Lengkap: XL Break The Box