A list of Must Recommended Online Resources for Students 
So, are you tired of writing lengthy assignments and working too hard to achieve the best grade? Do not worry; here are a few tools that can ease your academic work. Academics can be very enjoyable, but they can also be very difficult.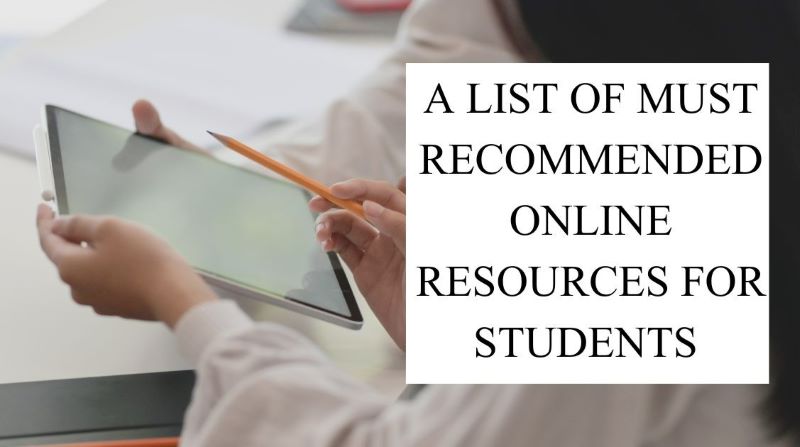 Introduction
If you do not have the necessary resources to manage things, many students struggle to do well in school while working to improve their grades because life there is challenging.
Feeling pressured to perform better academically and compete with high achievers can be challenging and even scary at times.
These are just a few challenges that students encounter, but fortunately, they can be greatly simplified.
Good educational tools make it possible to complete schoolwork comfortably.
This blog will contain some of the best online educational resources for students.
Here is a list of Must Recommended Online Resources for Students 
Students also have trouble with the short amount of time they have to turn in their papers and other assignments.
Additionally, they struggle to finish their work with the limited resources they have available.
The top resources for student work are listed below.
1. Hemingway Tool
Hemingway is an online word processor tool that helps to make your writing free of bad grammar and style while making it clear and bold.
It has a dedicated spell checker feature.
It ensures that your reader will pay attention to your message rather than your writing.
Too frequently, our words are chaotic and countless, just like our thoughts.
Sometimes less is more, etc., and almost any piece of writing could benefit from some editing.
Where your writing is too dense, the Hemingway Editor will highlight the areas in yellow and red.
This smart tool will help you remove unnecessary words and also split the sentence into two if it is too compact.
It is one of the best word processor tools for students and helps them refine their writing and enhances their content.
2. Quillbot
There are some tools that only specialize in certain tasks, but there are also some one stop online tools that can do a lot more, and Quillbot is one of them.
Quillbot is a fantastic and very practical tool for students that can help them with their writing, as you may have already heard.
Students can greatly enhance their writing abilities by using Quillbot.
It serves as a writing assistant and makes an effort to help students write with better grammar, spelling, phrasing, style, and tone.
Thanks to Quillbot's intelligent AI, which makes suggestions to the students to help them think of ways to improve, you can communicate more effectively and in the way you want to.
The best feature of this tool is that it automatically proofreads your writing as you use documents, emails, messages, social media platforms, phone apps, and websites.
As a result, it can be used with different browsers on your phone and laptop and is integrated with many websites as well.
On the quillbot tool, your writing is constantly reviewed to make sure it is accurate, refined, and complete.
3. Rephraser
Students commonly have a problem with communication, and a lot of their assignments and tasks get bad grades due to issues with their writing.
With the help of this smart and free online AI paraphrasing tool, students can improve the content by changing the words.
You can improve proverbs, phrases, and even entire sentences by changing the words using a unique algorithm.
Students can also pick and choose which words in the sentence they want to change.
With the smart rephrasing tool, you can change and improve the original text by adding new words and sentences.
The text you type is changed, but the meaning stays the same, with the help of the best possible synonyms and a completely new form.
With the rephraser tool, it's easy for students to read different kinds of texts, understand what they mean, and edit and improve them.
This smart, free tool can help content writers, teachers, researchers, marketers, and students. It is powered by artificial intelligence.
There are no sign-up or registration fees when using the Rephraser tool, which is a significant advantage.
It has high security standards to keep it safe from access by people who should not be able to see it, and it does not save any of the content you rephrase.
A web-based version of the tool is available in addition to the actual one.
It is just as easy to use and has all the same great features.
4. Word Counter
The free Word Counter tool is a cutting-edge resource that is quick, effective, and simple to use for students in their assignments.
It helps the students to count characters and words written in a document.
It computes these results in real-time to assist you in controlling the length of your posts.
There are many reasons to use word counters.
The word counter can help authors, bloggers, students, educators, and students in particular stay within their predetermined word limits.
The main objective is to help students stay within or reach the required word count while providing them with information quickly and simply.
Students can use it with their essays and other assignments to keep their word count in the limit.
5. Dictionary.com
One of the best websites for finding word definitions, word origins, and other reference material online is Dictionary.com.
It has current dictionary entries, interesting facts about words, fun trivia, and much more.
By doing so, it demonstrates to millions of people the evolution of the English language.
This dictionary should be used by every student, who should also take advantage of its features to learn new words and broaden their vocabulary.
6. Online Notepad
The amount of stationery needed by students to get through a typical school day is quite a lot.
In some educational institutions around the world, students need to bring a variety of pencils, books, notes, and other schoolwork, but these days they only need their devices.
When students need to take notes or make a list, the online-notepad.net is the ideal option because it provides them with the newest features.
Using an online notepad is a great way to keep your notes accessible and organized.
In addition, they look cleaner and more contemporary than paper notebooks.
Another useful feature of the online notepad is the locking feature.
This keeps your private notes safe so that only you can get to them with a password.
Conclusion
It is undeniable that being a student is challenging.
The pressure of academics can be extremely challenging and occasionally even a little intimidating.
But there are because modern problems require modern solutions.
There are many resources available online that can help students advance academically, perform better, and earn higher grades.
Some resources can aid in writing, while others can enhance vocabulary.
The top 6 educational resources that students can use to help them with their schoolwork were covered in this article.
Here are the top 6 educational tools:
Hemmingway
Quillbot
Rephraser 
Word Counter
com
Online Notepad