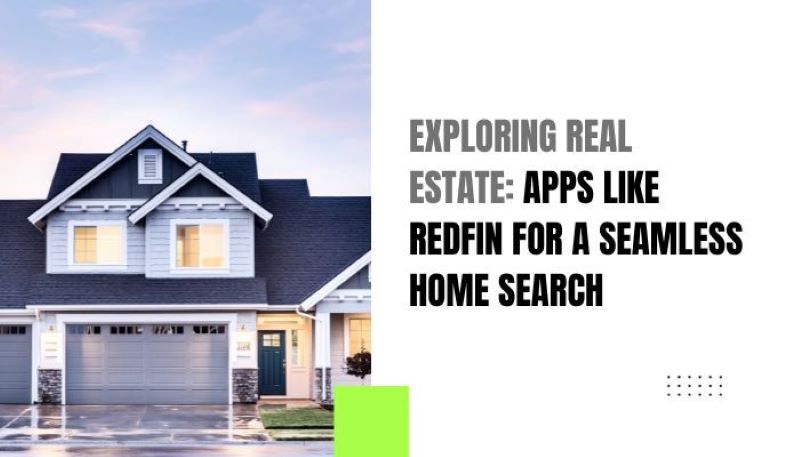 Image: Dok. Pribadi
Exploring Real Estate: Apps Like Redfin For A Seamless Home Search
The journey to finding the perfect home is an exciting yet complex one. Whether you are a first-time buyer, a seasoned real estate investor, or simply looking for a change of scenery real estate apps offer many options and opportunities.
Today fast-paced world, finding your dream home has become more accessible than ever, thanks to innovative real estate apps like Redfin.
Apps For A Seamless Home Search
These digital platforms have revolutionized the way we search for properties, offering a user-friendly interface and a wealth of information at our fingertips. Moreover, these apps offer features ranging from detailed property listings and neighborhood insights to interactive maps and mortgage calculators.
According to Realtors (NAR), 93% of real estate agents use mobile apps or smartphones for their business, highlighting the industry's heavy reliance on mobile technology.
Whether you are looking for your forever home, an investment property, or just curious about the market, these apps have something to offer for everyone.
In this blog, we shall be discussing the world of real estate apps, exploring alternatives to Redfin, and sharing real-life examples to help you navigate the housing market efficiently.
Understanding The Importance Of Real Estate Apps
Real estate apps offer detailed property listings, often with high-quality images, 360-degree virtual tours, and comprehensive property information.
This rich content helps potential buyers make informed decisions. Infact, listings with professional photos receive 118% more online views, according to NAR.
Why Real Estate Apps Matter?
The Redfin mobile app has become an essential tools for both homebuyers and sellers. They provide a convenient platform to list properties, search for homes, and connect with real estate agents. The significance of these apps lies in their ability to streamline the often complex process of buying or selling a property.
Redfin Advantage
Before we explore alternatives, let's briefly examine what makes Redfin a popular choice among users. Redfin is renowned for its user-friendly interface, accurate listings, and a team of local agents ready to assist buyers and sellers. It has set a high standard in the industry.
Let's look at the benefits of apps like Redfin.
Benefits of Redfin Real Estate App
Many real estate apps have a global presence, allowing users to search for properties not only locally but also internationally. This widens the scope for investment opportunities and relocations.
Accurate Property Listings
Redfin is known for its accurate and up-to-date property listings. Users can trust that the information they find on the platform reflects the current real estate market.
It offers a user-friendly website and mobile app developmet, making it easy for both buyers and sellers to navigate and find relevant information.
The platform provides advanced search filters that allow users to narrow down their property search based on specific criteria such as location, price range, property type, and more.
Redfin has a network of local real estate agents who are readily available to assist buyers and sellers. These agents have local expertise and can provide valuable guidance throughout the real estate transaction process.
This app is transparent about its pricing structure, which includes lower commission rates for sellers compared to traditional real estate agents. This can result in cost savings for sellers.
Redfin's interactive maps enable users to explore neighborhoods, nearby amenities, schools, and commute times, helping them make informed decisions about property locations.
This app provides estimated property values, which can be useful for both buyers and sellers to gauge the market and negotiate prices effectively.
Users can set up real-time notifications to receive updates on new listings, price changes, and market trends in their chosen areas of interest.
Online Scheduling for Tours
It allows users to schedule property tours online, making it convenient for buyers to view homes that match their criteria.
Redfin offers a range of educational resources, including articles and guides, to help users understand the real estate process better.
Exploring Alternatives to Redfin
If you want to develop an App like Redfin, first look at the examples of real estate apps. With the increasing focus on sustainability, some real estate apps now include information about a property's energy efficiency and green features, catering to environmentally conscious buyers.
Zillow: Your Comprehensive Real Estate Companion
Zillow is one of the most well-known alternatives to Redfin. It offers an extensive database of properties, including homes for sale and rent. The platform also provides valuable information such as estimated property values and neighborhood insights.
Features of Zillow:
Extensive property listings
Property value estimates
Interactive maps
Affordability calculator
Agent finder
Pros:
Zillow offers a diverse range of property listings.
Property value estimates and local data help users make informed decisions.
The website and mobile app are user-friendly and intuitive.
Access to a network of real estate professionals for guidance.
Cons:
Property value estimates may not always be accurate.
Primarily focused on the U.S. market.
Some users find the number of ads on the platform distracting.
Trulia: Simplifying Your Home Search
Trulia, now owned by Zillow, focuses on making the home search process easy. It offers detailed property listings, interactive maps, and neighborhood information. Trulia's user-friendly app like zumper  is a hit among those searching for their dream home on the go.
Features of Trulia:
Detailed Listings
Interactive Maps
Local Insights
Mobile App
Rental Listings
Pros:
High-quality photos and detailed property descriptions.
Provides valuable insights about local neighborhoods.
The app offers a seamless user experience.
Great for renters looking for apartments and houses.
Cons:
Focuses primarily on the U.S. market.
Agent profiles may be less comprehensive compared to other platforms.
Realtor.com: Connecting You with Professionals
Realtor.com stands out for its commitment to connecting users with real estate professionals. It offers a vast selection of listings, along with resources like mortgage calculators and informative articles to guide users through the buying or selling process.
Features of Realtor.com
Agent Listings
Property Search Filters
Mortgage Calculators
Local Insights
Articles and Resources
Pros:
An extensive network of experienced real estate professionals.
Allows users to refine property searches effectively.
Offers helpful articles for buyers and sellers.
Cons:
Some users find the platform's ads distracting.
The focus is primarily on the U.S. real estate market.
Homes.com: Your Gateway to the Housing Market
Homes.com is an excellent choice for those looking to explore a wide range of properties. With a user-friendly interface and tools like a mortgage calculator, it helps users make informed decisions when searching for their next home.
Features of Homes.com
Wide Property Selection
Mortgage Calculators
Local Insights
Rental Listings
User-Friendly Interface
Pros:
Offers a wide range of properties, including rentals.
Helpful tools for estimating mortgage costs.
Easy-to-navigate website and app.
Cons:
Primarily focused on the U.S. market.
Some users report occasional inaccuracies in property details.
Conclusion
The world of real estate apps offers a plethora of options beyond Redfin. Whether you're a first-time buyer, a growing family, a retiree, or a frequent traveler, there's an app tailored to your needs.
These alternatives, such as Zillow, Trulia, Realtor.com, and Homes.com, are designed to simplify your home search and connect you with the right professionals.
Don't miss out on the convenience and efficiency that these apps bring to the table. Start exploring today and take the first step towards real estate app development.
FAQs
Are these real estate apps free to use?
Yes, all the mentioned real estate apps are free to download and use. However, some may offer premium features for a fee.
How do I connect with a real estate agent through these apps?
Most apps have a built-in feature that allows you to connect with local real estate agents. Simply search for agents in your area, read their profiles, and get in touch.
Can I trust the property value estimates provided by these apps?
While the estimates are based on data and algorithms, it's always advisable to consult with a real estate professional for the most accurate valuation.
Do these apps cover international properties?
Some of these apps may offer international property listings, but their primary focus is often on the domestic market.
Are there any privacy concerns with using these apps?
These apps prioritize user privacy and data security. However, it's essential to review their privacy policies and adjust your settings according to your preferences for added peace of mind. (CW)