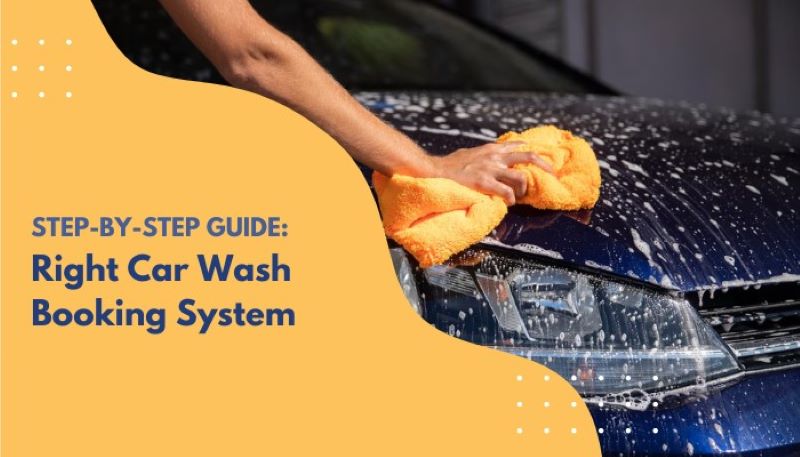 Image: Dok. Pribadi
Step-By-Step Guide: Right Car Wash Booking System
When it comes to the car wash booking system it automates and streamlines the booking process with better customer experience. Today, we lack time and what we want is quick and better services, whether it's ordering food or getting cleaning services at home.
They all are just a few clicks away. Gone are the days when one has to spend their entire day taking their car to the washing station and waiting in queues to get them washed. Technology has changed the entire landscape and what's better than sitting on a couch and booking services with just a few clicks.
Right Car Wash Booking System
If you want to book car wash services with websites or apps, you can easily download them. In this way, the car washes websites or apps target online customers and offer convenient car wash services.
Around 56,773 car wash services and auto detailing businesses are there in the US. Not everyone is taking advantage of these services because these service providers lack on-demand services.
If you are someone who wants to offer car wash booking services to their customer or wants to invest in car wash app development. Now is the right time, it's better to dive in the running stream rather than wait for the river to slow down.
With this being said, let's dive into the car wash booking system.
Understanding the Car wash Business model
Before we talk about Online Car Wash Booking System let's discuss its business model.
The entire car wash business model revolves around vehicle cleaning and detailing services to the customers. It typically focused on cars but with the expansion of other services, they are including other vehicles like trucks and motorcycles.
However, the car wash business model offers various services from basic exterior cleaning to comprehensive interior and exterior detailing.
Here is a breakdown Car wash business model:
Business Models
Self-service car wash
The customers use self-service bays equipped with pressure washers, foaming brushes, and vacuums. They pay for the time and materials used.
Automatic car wash
In this car wash appointment booking system, vehicles are driven through an automated system that uses rotating brushes, wet jets, and soap dispensers to clean the exterior.
Hand washing and detailing
Skilled employees manually clean and detail vehicles using various techniques, making them suitable for personalized and meticulous cleaning.
Revenue Streams
Per-Service Pricing
Charging customers based on the type of service they choose, can vary from basic washes to more premium detailing packages.
Membership/Subscriptions
They offer subscription plans that provide customers with regular car wash services at a discounted rate.
Upgrades and Add-Ons
By providing customers with the option to add extra services or upgrades to their chosen package.
Product Sales
Selling car care products like wax, interior cleaners, microfiber cloths, and air fresheners to customers.
Top Market Players
Mister Car wash
It is among the largest car wash chains in the US, offering a range of car wash and detailing services. Plus, they have both conveyor-style automatic car washes and hand wash locations.
Autobell Car wash
Another prominent car wash chain in the US, known for its high-quality exterior and interior cleaning services.
Zips Car wash
Known for its fast and convenient car wash services, Zips car wash has rapidly expanded across the US.
IMO car wash
Another major European car wash operator with a significant presence in multiple countries. They offer various automated and manual car wash options.
Brown Bear car wash
Lastly, Brown bear car wash operates mainly in the pacific northwest of the US and is known for its environmentally friendly practices and quality services.
Steps to create a car wash booking system
Before we start car wash booking system development, it's essential to consult the cost of car wash booking app development with an expert mobile app development company.
Here are the steps for the car wash booking system.
Planning and Research
Start by understanding the needs of your car wash business and your customers. Research existing car wash booking systems to see what features are essential. Plus, identify your target audience and their preferences.
Choose a Platform
Select a platform for developing your online booking system. You can use website builders, or content management systems (CMS), or hire mobile app developers to create a custom solution.
Features and Functionality
Include key features in your car wash online booking system. Allow customers to choose from different car wash packages and detailing options.
Let customers pick a convenient date and time slot for their appointment. If you have multiple branches, allow customers to select their preferred location.
Provide an option for customers to create accounts for easier future bookings.
Integrate secure payment gateways to accept online payments.
Confirmation and Reminders
Send confirmation emails and SMS reminders to customers about their upcoming appointments.
Design and User Interface
Create a user-friendly interface with clear navigation, and ask your team of designers to use a responsive design to ensure the booking system works well on both desktop and mobile devices.
Development
Build the booking system using the chosen platform or programming languages. Also, ensure smooth integration of all features, such as service selection, date/time picker, and payment processing.
Payment Integration
Integrate a reliable payment gateway for seamless online transactions. Plus, customers should be able to pay for their chosen services securely.
Testing
Thoroughly test the booking system to identify and fix any bugs or issues. Also, test different scenarios, including service selection, time slots, payments, and user registration.
Launch and Promotion
Once the system is tested and ready, launch it on your website. Promote the new online booking system through your social media, email marketing, and other relevant channels.
User Training
Train your staff to manage the online booking system and handle customer inquiries related to the booking process.
Feedback and Improvements
Encourage customers to provide feedback about their booking experience. Use this feedback to make improvements and enhance the system's usability.
Continuous Maintenance
Regularly update and maintain the booking system to ensure it remains secure and functional. Address any technical issues promptly.
By following these steps, you can create a user-friendly and efficient Car Wash Online Booking System that simplifies the booking process for your customers and streamlines operations for your car wash business.
Conclusion
Online businesses have evolved beyond just offering convenient shopping from home. The central goal for every online business is to simplify and save customers time.
Websites and apps are addressing customer pain points, with long queues being a significant concern. This explains the increasing popularity of car wash booking websites and mobile apps.
FAQs
Why do I need a car wash booking system?
A car wash booking system streamlines appointments, eliminates waiting, and enhances customer convenience, boosting business efficiency and customer satisfaction.
How do I choose the right booking system?
Research your business needs, compare features, ensure user-friendly interfaces, and opt for a system with mobile compatibility and secure payment options.
What features should a good booking system have?
A good system should offer service selection, date/time schedule, location choice, user accounts, payment integration, confirmation emails, and reminders for a seamless experience.
Can I integrate the system into my website?
Yes, choose a system that supports easy integration into your website or consider hiring a developer for custom integration.
Is a mobile app necessary?
While not mandatory, a mobile app enhances accessibility for customers on-the-go, providing a convenient way to book car wash appointments.
How does a multivendor system work?
A multivendor system allows multiple car wash businesses to list their services on a single platform, increasing visibility and providing customers with more choices.
 What are the benefits of a multivendor system?
It simplifies the process for car wash businesses, reducing the need for individual websites/apps and reaching a broader audience through collaboration.
 How do I ensure data security?
Opt for a system with strong security measures, including data encryption and secure payment gateways, to protect customer and business information. (CW)