It's Time to Attend Dinner Invitation from Sabahan Bloggers
Does not feel I woke up around 4 pm. Incidentally my friend was in the shower, our plan is going to walk briefly in the afternoon. Incidentally shopping location "Centre Point" is located right on the next block Bouteq Imperial Hotel, the location of where we are staying now. Soon my friend had finished his bathroom activities, now turns me who rushed to bathe.
Okay, after all that is done we're ready to go now. The first target is to find the mobile phone counter because since entering the border area, the signal telecommunications providers that I use can not be used again.
Dinner Invitation from Sabahan Bloggers
Hhhmmm … RM. 8.00 (equivalent to Rp. 22 400, -) for an activation card telecommunications provider in Malaysia. That has included an account of RM. 5.00 (equivalent to Rp. 14,000, -). Just wanted to inform you that here at least charging the account is RM. 5.00 and sold at RM. 5.50 (equivalent to RM. 15 400, -). Pretty expensive right?.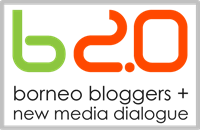 The next goal is to find a cheap place to eat, my choice fell to the diner located inside the "Centre Point" is. Incidentally there in front of her bar it says "Nasi Ayam RM. 2.00". Well, finally it can also inexpensive menu. Only with Rp. 5600, – only I can eat Nasi Ayam.
Because it's very hungry, we immediately rushed to order a menu in question. Hhhmmm … not bad for the taste. I think these foods have a standard taste almost the same with Indonesian cuisine. Now it's time to pay, for a serving of chicken rice coupled with the soft drinks I had to pay a sum of RM. 4.50 (equivalent to Rp. 12 600, -). Approx price with Indonesia.
Towards evening we returned to the hotel. For tonight there is a dinner invitation event organized by Sabahan Bloggers (Sabah Bloggers Community). Carried out at a restaurant accident invitation Bouteq Imperial Hotel is located on the 10th floor, so I do not have far to walk.
Simply take the elevator and up. Well, it turns out the atmosphere of the restaurant is crowded. There were about 50 of those present in the event that I think is quite simple but exclusive impressed. I give you four thumbs up to what has been done by a community of bloggers like Sabahan Bloggers. Hopefully future Beleter Community (Borneo en netters Bloggers Community) also can do the same thing, aminnn … Btw, good job bro.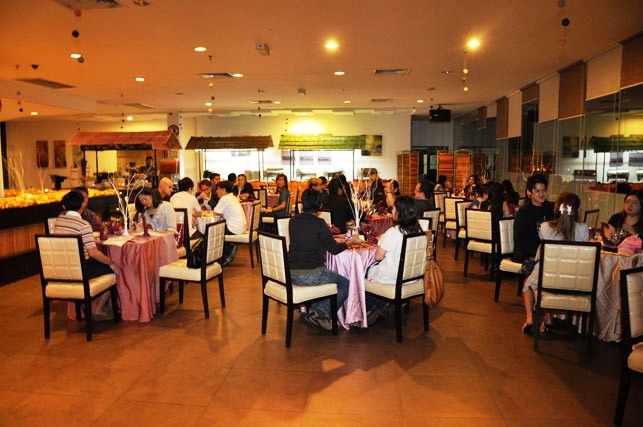 We took a seat at the far end of the room. Not long ago, the event starts by giving a speech delivered by Mr. Daniel Doughty (Borneo Colours representative) and Mr. Dinoza (representative Sabahan Bloggers). Profuse appreciation for these men because it has become part of the conduct B2.0 that I think this is the biggest event that a new blog was first implemented.
Okay, now included in the core event of dinner. Still waiting for the queue, I was approached by one newspaper reporter Sabah Times (sorry bro if I forget the name). With a little english stammered finally I could pass the interview session. Hehehe …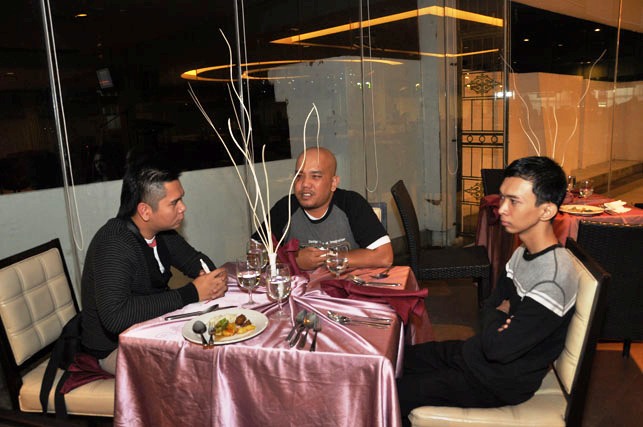 Well, now my turn to pick up food. There was no significant difference between the menu in Kota Kinabalu with in Pontianak. The concept is simple, just make sure the food is HALAL and beat. Wkwkwkwkw …
After that event followed by warm-hearted where each invitation that night interacting with others. It turned out that several representatives from other parts of Borneo such as Singapore, Malaysia, Philippines, Brunei, and Kalimantan, of course, also attended the dinner.
In addition, the presence of some contest finalists Borneo Bloggers Award 2010 progressively increased warmth of the atmosphere. It's really fantastic …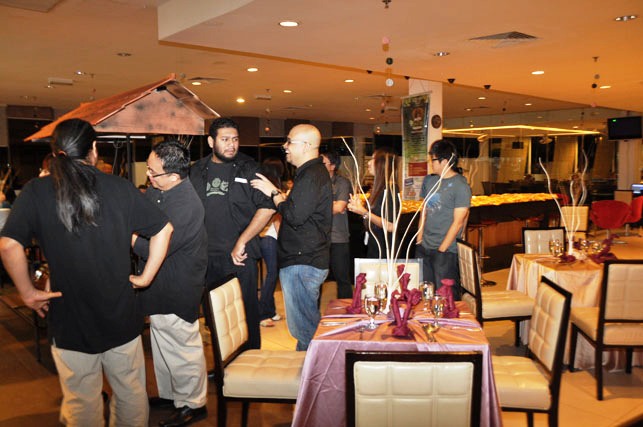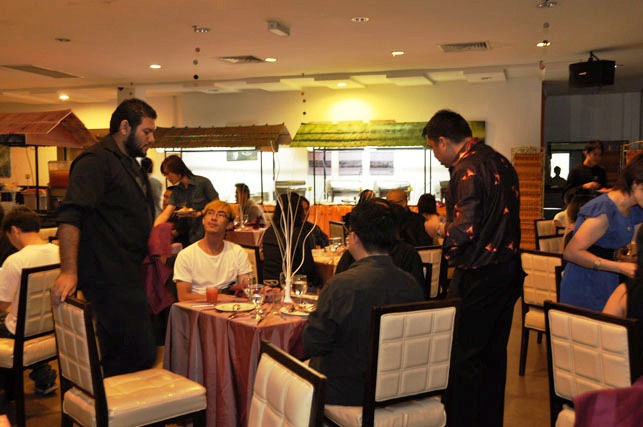 Does not feel the night wore on, now I have the watch show the time 10:30 at night. Seen the invitations have also begun to busy taking photos with documentation and each other. I also do not take out, although I do not have to bring a digital camera but the action in front of the cameras go on. Cheeerrrrrsssssssss ……….. Good night friends, see you again in the next morning. Have a take a nice dream, byeeee …. (DW)